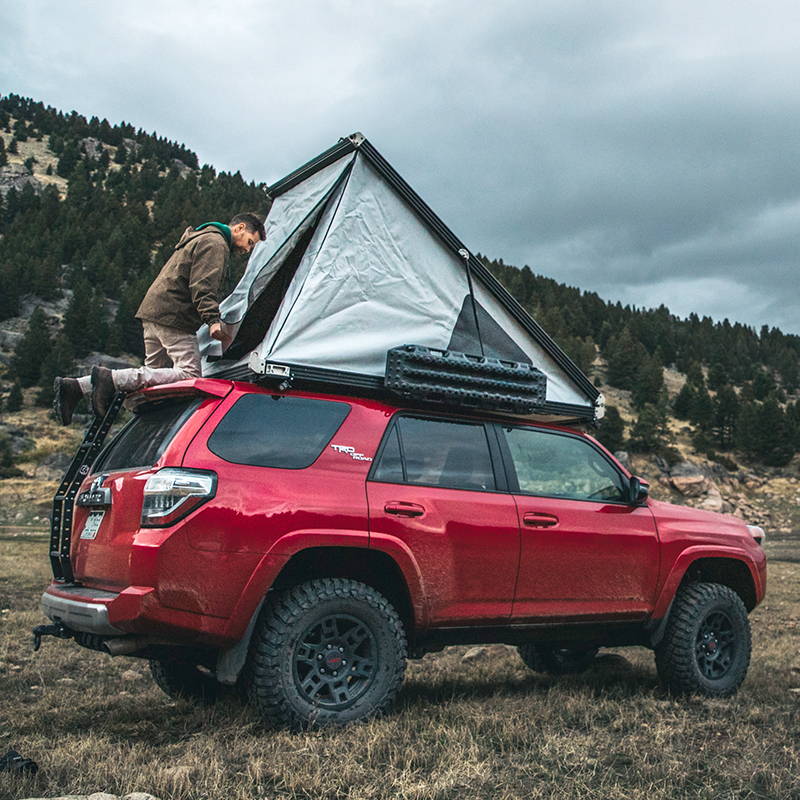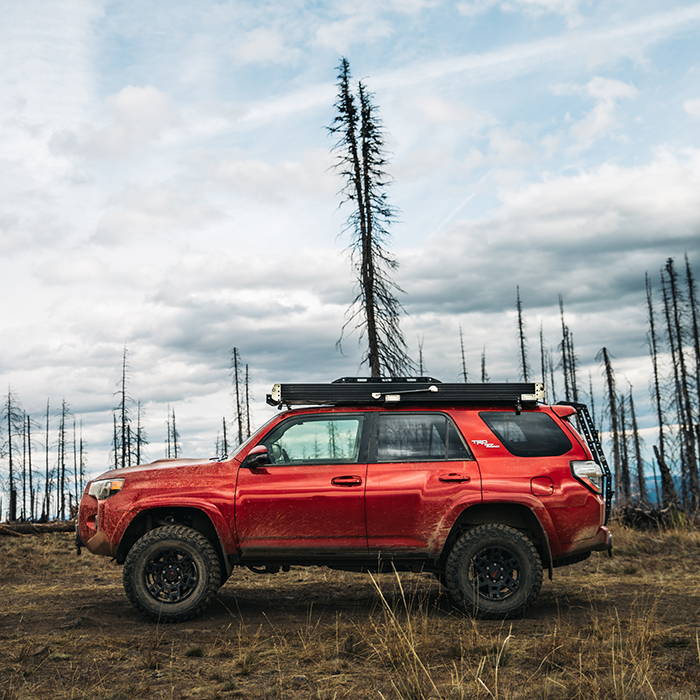 If you've made it this far you must be our kind of customer. The kind who's looking for an incredibly well-made thing to explore the world with. We applaud your good taste.
How Does The Purchasing Process Work?
We have completed our initial limited production run, and are now currently accepting new orders for the GFC Rooftop Tent.
Specs, and What's Included:
Dimensions and Weight
The tent features 50"x90" of interior sleeping space, with exterior dimensions of 53"x96". Overall weight of the tent is 135 pounds.
Mattress
The base model of the tent includes a 2" thick multi density high quality foam mattress with a washable cordura cover.
Universal Mounts
The tent comes standard with a universal mounting kit for round or square cross bars. Cross bars need to be a minimum of 56" wide.
Ladder (not included)
Because a rear hatch ladder like a C4 or Gobi works really well on many vehicles for ingress/egress, we chose to give customers the option to buy a ladder. A collapsible ladder that clips onto the extrusion is available for an additional $149 shipped if needed. You can find the ladder here.
Additional mounting systems are available for the tent beyond the universal cross bar kit. These mounting systems tie into the factory mounting locations for stock roof racks. Initially we will offer product for the following vehicles:
5th Gen (09-Present) Toyota 4Runner +$449
-(All Years) Toyota FJ Cruiser +$399
5TH GEN 4RUNNER
The mounting kit for the 5th gen 4runner requires an antennae delete kit that is included with the price of the mount. We will have a video guide on how to install a lower profile replacement housing for the factory sharkfin antennae. By eliminating the sharkfin, the tent is able to be mounted 2 inches lower on the vehicle and improve fuel economy and lower the center of gravity.
Product Page HERE.
FJ Cruiser
The FJ crusier mounting kit ties into the factory mounting points without any major modification to the vehicle.
Product Page HERE.
Local Pick Up
Local pick up is available for the tent at no extra charge. Our shop is located just outside beautiful Bozeman Montana, and we are very nearby Yellowstone and Grand Teton National Parks.
Shipping
The tent is also available to ship with standard freight. We have a flat rate shipping fee within the lower 48 of $500.00. If you live outside of that area, please send us an email to support@gfcengineering and we can find out the best way to get the tent to you.
GFC Roof Top Tent: $3,499.00